Dr Jekyll and Mr Hyde 1931
S P Oldham


05/13/2018 04:00PM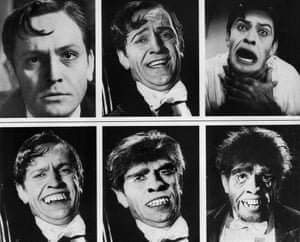 To continue my viewing of the films listed in a ScreenRant article '15 Black and White Horror Films That Are Still Scary as Hell' – By Wednesday Lee Friday https://screenrant.com/scariest-black-and-white-horror-movies-ever-all-time/ this time I chose Dr Jekyll and Mr Hyde, number 12 on the list.
Dr Jekyll and Mr Hyde 1931
Right off the bat, the strange perspective through which we view the film is clever and somehow unsettling, seeing things as if we were the main protagonist, looking through his eyes. It is something of a relief when we begin to watch him instead. An interesting and clever device I think, and a good way to grip the viewer's interest early on.
This film is well-acted, with a much more natural dialogue than many films of its time that I have seen. Quite risqué, for the time, too! A flash of bare thigh, even a glimpse of breast as a naked woman is in bed in one scene, trying to seduce Jekyll!
I don't know if it was intentional, but certain scenes and dialogue in this film put me in mind of domestic violence, issues which are sadly still very relevant today. More than once I found myself thinking about the parallels between scenes in this film and the real-life problems of so many victims, both past and present i.e. the fear of staying with an abusive partner, coupled with the fear of the consequences of leaving. In particular, the bedroom scene with Ivy and Hyde, where Hyde tries to make her say she hates him, then that she loves him, made me think of this. We all know that domestic violence IS in actuality horrific, so perhaps this was deliberate after all. This struck a chord, regardless. Interesting.
Perhaps more of a love story gone wrong than horror, although the premise is very good – a man determining the means of 'separating' the two basic elements of the human soul – good and bad – and having to deal with the consequences. Perhaps the message of the film is that bad overrides good, considering the fact that Jekyll eventually turns into Hyde without having to drink the potion first. Perhaps 'badness' was at the heart of his soul really, despite all his good turns at the start of the film. Maybe he was supressing that aspect of his personality before he embarked upon his experiment. In that sense, the film is food for thought and could prompt an in-depth conversation on the meaning of life etc… especially in the wee small hours of the morning, after a bottle or two of wine…
I have to say that this is now my favourite from the list so far. Very watchable, most of the characters likeable, the labyrinthine, ill-lit streets of Old London Town very atmospheric and the reactions and speech of the characters (most of the time) more realistic than can be said of other films of the era. One to watch, if you haven't already!
Scary as hell, even now? No, but a good film based on a great story of course, by Robert Louis Stevenson. I hope you enjoy!